Adagio Motion and Emotion (Lotte)
Lotte 16 month – fotos: Jessica Bolander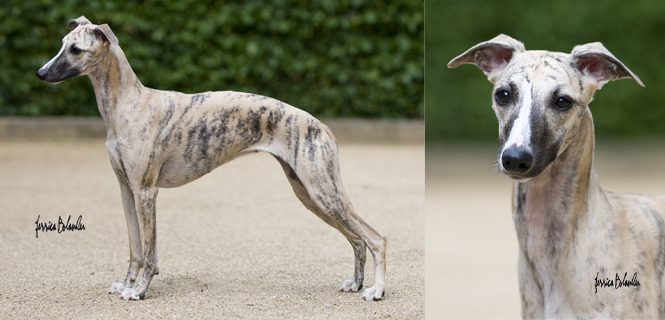 Adagio Motion and Emotion (Lotte)
(02/03/2010)
Dt. Champion (VDH), Dt. Champion (Club)
Lotte ist jetzt seit dem 1. Mai 2010 bei uns, wir freuen uns riesig über diesen zauberhaften Familienzuwachs und sind sehr gespannt, was die Zukunft bringt! Ein freudliches, aufgeschlossenes Whippetmädchen.

Tief beeindruckt hat uns bei unserem Besuch in Schweden der Spaziergang von Stefan mit Adagio Captured Sunshine und ihren Welpen. Es war wunderschön, die kleine Rasselbande zu beobachten, wie sie neugierig die ganze Welt erkunden.

Ihren Rufnamen hat Lotte übrigens von der Hauptfigur eines unserer liebsten Kinderbücher – "Die Motte Lotte" von Silke Brix-Henker- eine kleine Motte die auszog und sich ein ganz und gar ungewöhnliches eigenes Heim baut und sich auch vom Spott der anderen nicht beeindrucken läßt. Am Ende – so muß es natürlich sein – wird ihr Mut dann auch belohnt.



Play A While Nokia
Swe. & Dan.Ch.
ForgetMeNot flying Star
Fin.Ch.
Plumcreek Come Fly with Me
Am.Ch., JC
Be The One at ForgetMeNot
Am.Ch. Can.Ch.
Play A While Late Red Autumnhop Ale
SUCH
Ronndal Zinedine Zidane
NZ.,Fin.Ch.
Leyenda Miyabi Oh So Sexy
Adagio Captured Sunshine
I:B.C (Int. Ch.) Swe & Dan. CLC & Ch., Copenhagen Winner 2007 Field Champion
Adagio Love Supreme
UK, Int., Swe., Norw., Dan. & Fin.Ch.
Carry On Pastrami
Int, Swe, Nor & Fin. Ch.
FlicFlac Kiss of Love
Int, Swe, No, Dan & Fin Ch., SweW 1999, CphW 2009
Pencloe For Sure at FlicFlac
Swe Ch.
Millwold Gold Dust to Exhurst
GB Ch.
FlicFlac Kiss Of Gold at Pencloe
GB Ch.
[flagallery gid=1 name="Gallery"]
Fotos: Stefan Raghammer (Adagio) und Jessica Bollander